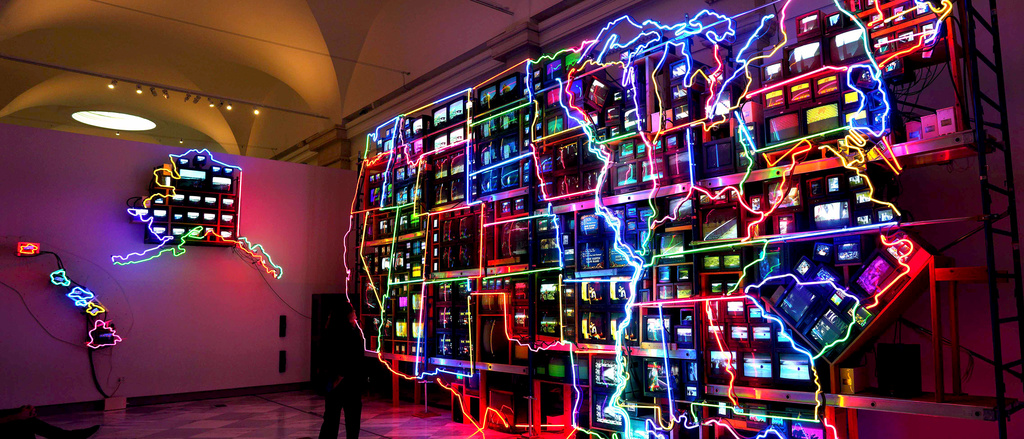 Nam Jun Paik, Electronic Superhighway: Continental U.S., Alaska, Hawaii. 1995. Smithsonian American Art Museum.
The Department of American Studies in the College of Liberal Arts and Sciences offers an interdisciplinary approach to the study of U.S.-American culture and society. American Studies students engage in interdisciplinary inquiry and practice the art of analyzing cultural materials in light of historical change, social justice and socio-cultural identities, communications media, and the operations of power across transnational, domestic/national and community contexts. Students acquire skills for analyzing cultural materials in such areas as the visual and literary arts; race, ethnicity and gender/sexuality in mass media and popular culture; the cultural study of sport and identity; technology and culture; public memory; faith communities and the institutions of the secular state. Courses and seminars in American Studies (AMST) focus on major cultural problems that traverse traditional departmental lines.   
Faculty in American Studies specialize in a wide variety of interdisciplinary topics, including gender/sexuality and affect in American cultural life; Latin-American and border studies; Comparative American Studies; race, gender, media and the globalization of sport; the history of leisure and tourism; Native American and Indigenous studies; community engaged scholarship; Animal Studies; Food Studies; American music; American humor; publicly engaged and digital humanities; environmental justice; and, more generally, capitalist cultures and coloniality (the dynamics of empire) in U.S. social and historical development.
The department offers undergraduate programs of study in American Studies and in Sport Studies (the cultural study of race, gender, media and sport in domestic and global contexts), as well as graduate programs of study in American Studies -- with a Sport Studies subprogram available in the Ph.D. program of study. Since the mid 1970s, the American Studies Department has been closely allied with UIowa programs in African American Studies; Gender Women and Sexuality Studies; and Native American and Indigenous Studies; the Department of American Studies has been integrated with a subprogram in Sport Studies since 2010. American Studies scholarship pursues interdisciplinary inquiry with emphasis on diversity and social movements, political institutions, and hierarchies of power in the cultural history of the United States in transnational as well as national contexts.
Sport Studies (SPST) is an interdisciplinary field of study that grew out of departments of physical education in the 1960s. The University of Iowa was a pioneer in this area. Graduates from our Sports Studies program go on to further graduate study in the field, or to careers in education, journalism, administration, coaching, and sport management.